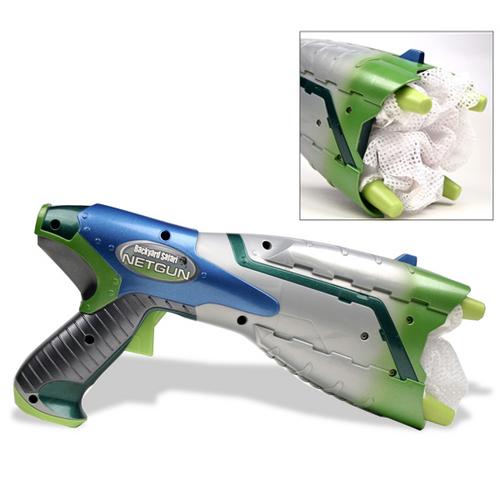 As a father to a seven-month-old baby, I need to keep mosquitos and flies away from my son by all means. Incense may be harmful to a baby; therefore having it around my son is out of the question. When I was little, my parents used a mosquito zapper (lamp), and it was somewhat effective; however, nowadays these mosquitos and flies seem to have gotten smarter; what's more, they seem to be immune to the mosquito-repelling spray. With the summer months approaching, we are bound to see more and more of these irritating bugs.
Thanks to the Backyard Safari Bug Net Gun, an innovative toy from a UK-based company, we no longer have to put up with mosquitos buzzing above our heads while we are trying to catch some sleep. The gun works by firing four darts towards the direction of the flying bug. The net then expands like a parachute to trap a mosquito. I can swear I have seen a similar device used by the American law enforcement agencies to capture fleeing suspects, but I've never thought that such technology would one day be used on toys. Initial user reviews have all been very good. The maker of this gun claims the gun has a firing distance of at least five to ten feet. At $30 a pop, this is by no means an expensive toy for I have Nerf guns that cost more than that. This neat invention is available in online stores like Amazon and Gadget Shop.
If you know a toy that also has a practical usage, then please share it with me. The person with the best suggestion for a toy wins a toy from me. As I always say, "Life is unbearable without toys."